The motherboard is one of the most important pieces of any machine. It's also one of the few components where paying more for a higher-quality model is compulsory.
one
The general consensus is that it's a decent board.

="Fired right up with an E2160, and instantly went to 333 fsb. Rock solid a 3ghz".
="awesome with E4400 (clocked to 3GHz), and now I'm running it with E8400 (4GHz 24/7 with EIST and C1E enabled). Biostar tech support WAS GREAT"
="Has single PCI-e and aluminum NB/SB heatsinks. No MOSFET/PWM heatsinks. But it has been running very well. No reboots or other issues. Make sure you get modded BIOS from rebelshavenforum.com if you are going to overclock."
="I haven't done much overclocking in the past, so using the automatic overclocking settings in the BIOS make it easy... Love the built-in overclocking utility in Windows. The On-Off and Reset buttons on the PCB are a great feature and the
solid-state capacitors
are generally reserved for higher-end boards"
="some reviews about problems with the BIOS"
="is easy to install. Bios are easy to use...a low cost highly overclockable board"
="get a 1333 MHz FSB Core 2 (instead of a 1033 MHz E6600), so I could utilize the 1333 FSB that this mobo provides."
The TP35D2-A7 supports all of Intel's processor line-up, including the latest 1333FSB models. Crossfire is not supported, but being a budget board, that's little surprise. Overclocking is a definite possibility, however there have been few who've had more success than others. Luck of the draw, as they say. Still, for the $105 price tag, this board should treat you well.
MSI P35 Neo2-FR

~$119 USD

Considered to be the best bang for the buck by many, MSI low-end P35 offering is anything but. Unlike other low-end models, the Neo2-FR -does- offer support for ATI Crossfire, thanks to the addition of a second PCI-E slot. Like the others, 1333FSB processors are supported as well as DDR2-1066 RAM.
The fact is, this is a $120 board but looks like one that costs much more. It has lots of copper for effective silent cooling, five S-ATA ports with support for RAID 0/1/0+1/5 and good overclocking potential. If there is any gripe to be had about this board, it would be the layout... it's weird. The required 4-pin and 8-pin power connectors are located in the most inopportune spots. It's as though they did it on purpose! If you can get past that, this board comes highly recommended.
Gigabyte GA-P35-DS3R

~$140 USD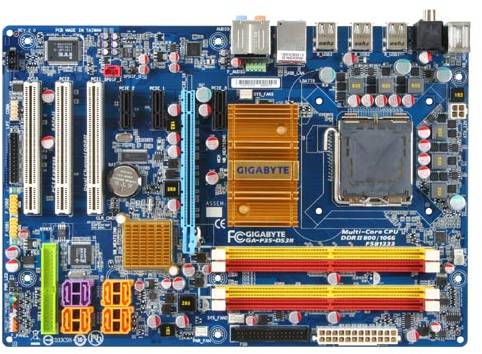 There are few downsides to this board. It offers support for both 1333MHz FSB processors, including Intel's upcoming 45nm offerings (the QX9650 is supported, but costly). Although our higher-end boards (and the previously mentioned MSI) include support for dual graphic cards, the P35-DS3R offers only one. This might not matter to you if you plan on using a single graphic card throughout the life of your board. Overall, this is a fantastic offering and well worth a purchase if you are looking to pick up a great board on a relative budget.
abit IP35 Pro

~$180 USD

abit has been having a great year as far as enthusiast motherboards are concerned, and the IP35 PRO is no exception. Recently, it came highly recommended from AnandTech and Tech Report, .
Besides the great overclocking ability and feature-set, the IP35 PRO includes support for 1333FSB processors, DDR2-800 (which can of course be overclocked), dual PCI-E 16x slots (including Crossfire support), eSATA, great software overclocking tools and also totally passive cooling. No fans means a quiet system, a huge bonus if that's what you are after. Without a doubt, given the price and feature-set, this board is a winner.